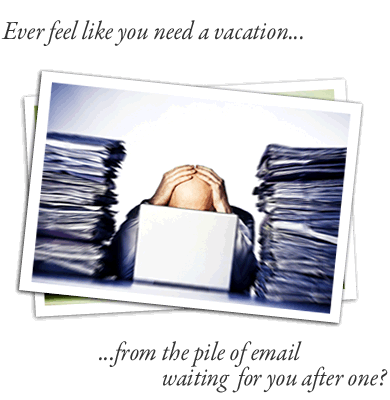 It's that time of year to get back to work and for offices to start operating in full swing after summer holidays or a relaxed holiday schedule. One of the first things you will do when you get into work on any given day is turn on your computer.
Take this time to think of a few things such as speed, security and ways to help your office get an IT upgrade so you can produce better results.  For example – putting a filter on your emails before you go away from the office so you don't come back and spend the first week just catching up on emails.  Or making sure your office network didn't catch any nasty viruses while you were on vacation.  We can help you with all of this and more!
This doesn't mean you have to hire and build an expensive, internal IT department, it means making the investment now and getting the overhaul you need with ongoing support from a company like us, an outside source, so you can focus on building your own company.
Here are a few questions to ask yourself about how your office uses technology and how we can help you improve your IT for better business performance overall?
Question: What are some of the problems your office is currently experiencing with technology that is making it difficult to fulfill your company's goals? Think of how computers operate and are connected, as well as printers, mobile sharing, network, software, anti-virus protection etc.
Answer/Solutions We can help you set up a single, integrated set of tools so you can use your email, file sharing system, instant messaging  and collaborate online.
Question:  How can this improve one's workplace?
Answer/Solution:  Imagine having a meeting where you could work on a project all at once with better technology and access to online software.  Example – allow anyone from around the world to attend your meeting or let them give your workplace a virtual presentation.  Imagine bringing in a classroom to your workplace and the money a company could save on sending employees out of town for training or meetings.  Features like this is how our IT services package can help pay for itself!
We can help you not only collaborate online but also make sure your services are reliable and always monitored.   We have remote monitoring services that will give you MORE time doing YOUR job while we do ours and manage and troubleshoot for you.
Question: How has Matrix Group helped others?  What were the biggest communication problems your clients had before Matrix went to work for them?
Answer/Solution:  We have clients with mobile offices, employees all over the city, province or even the country.  Sharing large files while remaining secure online is a constant problem.
For example – the head office trying to make complicated travel plans for its employees or clients and keeping everyone in sync can go from endless emails and headaches to one simple calendar sharing solution. A calendar where we can help keep all travel information in one place so you can use your mobile devices to check in instead of forgetting important documents at the office printer.  We can also help your email system set proper alerts so no one misses appointments or flights and avoids catching  any nasty bugs that may be trying to hack into your personal files.  We do it all for you.
Matrix Group will also make the transition process as seamless as possible for your office so everyone can be up and running quickly and communicating easily.  We can make doing your job easier so you can spend more time achieving goals.   Our clients often call our services their "smartest investments."  Why?  Better technology can make your office function better and free up time to focus on making more money.
We are Microsoft certified and this means email, collaboration, and unified communications tools through a single subscription and having the reassurance of  data being hosted and automatically backed up in a trusted data center.
When your team has access to the same information online – you can coordinate and organize much better!  No matter how small or big your team, you can collaborate on documents from anywhere and schedule meetings quickly and easily.  Imagine never having to spend hours searching your email for that one document you need right now to move forward with a project and instead having access to files that you can share with all or some of your departments.
Question: What if we already have ways to do things like share large files from feature we can just get online such as Dropbox and Skype for online meetings?
Answer/Solution:  Why not make your back to work this fall even better with try newer supplies and the latest tech tools that are more  intuitive and programs that provide way more than any collaboration features or just cloud storage.   There is sharing large files but what about  protecting sensitive personal information?  We can help you upgrade from old "pencil and eraser" methods to the latest tools available on the market.
Question:  What is the biggest advantage to businesses who you provide IT for?
Answer/Solution:  We help businesses who don't need or can't afford a large IT department in house.   We  also always monitor your  data security for you from emails to large files to all your backups to the cloud.  And we do all of this without having to always be in your space.  Another big advantage is we DON"T use a bunch of different programs or vendors that most offices would download from the internet or special offers.  You can install them but what about monitoring them?  We do that for you so you can save endless hours doing the job you need to do to make your business successful.
Contact us for a consultation so we can assess your needs and how we may be able to provide easy,
cost effective and new age solutions so you can make the most of your time and focus on making a profit!
Matrix is I.T. with integrity and intelligence!  604-541-8957
Also check us out on social media for tips, tech news and even to win free tech toys:
https://www.facebook.com/matrixgroup.ca?ref=hl
https://twitter.com/GoMatrixGroup  @GoMatrixGroup